Overview
Connect with your audience in more powerful, efficient, collaborative, and profitable ways
Avid Everywhere is our strategic vision for helping content creators and media organizations connect with consumers more powerfully, efficiently, collaboratively, and profitably.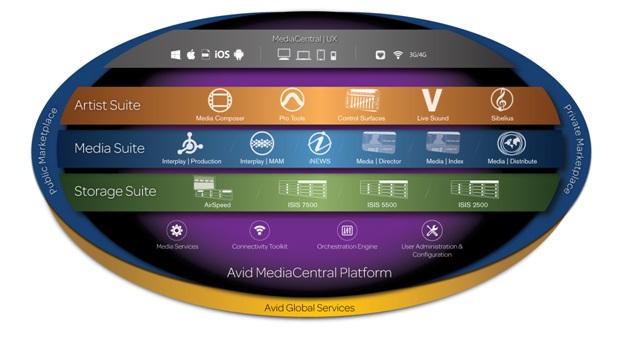 The Avid Everywhere vision is guiding our development of the most fluid end-to-end, distributed media production environment in the industry. The Avid MediaCentral Platform, in conjunction with the correspondingArtist Suite, Media Suite, Storage Suite, and upcoming private and public marketplaces, will together form a comprehensive ecosystem that encompasses everything from media creation to distribution and monetization, addressing every aspect of the new digital media value chain.Addressing Key Industry Needs
Avid Everywhere—Addressing the key needs of media professionals
To develop the Avid Everywhere strategic vision, we began by examining the media value chain. In recent years, the old, linear value chain has grown more complex and has transformed into a fluid, interactive, and multi-dimensional process in which digital assets can be controlled all the way from concept to consumption. This change has created enormous pressures for media organizations and creative professionals.
Our Avid Everywhere vision addresses the most urgent media industry needs by providing powerful and efficient ways of working within the new media value chain.
Source: http://www.avid.com/